CNC Precision Machines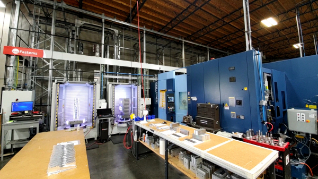 P&J Machining provides a wide variety of precision CNC machining services and capabilities using 3, 4 and 5 axis vertical and horizontal mills.
By using state of the art verification software and cell centers outfitted with the latest technology, our highly trained, experienced staff are able to hold the limits of today's tolerances while pushing the limits of lights out manufacturing.
This allows us to provide a high-quality product at a reduced price without increasing lead time.
| | | | | | | |
| --- | --- | --- | --- | --- | --- | --- |
| QTY | BRAND | MODEL | TAPER | CELL SYSTEM | TRAVEL | AXIS |
| 2 | Toyoda | FH550 | 50 | 45 Pallets | 29.5" x 31.5" x 33.5" | 4 |
| 1 | Grob | G550 | 63 | 10 Pallets | 35.4" x 35.4" x 20.8" | 5 |
| 2 | Matsuura | H-PLUS 500 | 50 | 60 Pallets | 31.5" x 31.5" x 31.5" | 4 |
| 1 | Matsuura | H-PLUS 300 | 40 | 15 Pallets | 19.68" x 22.04" x 19.68" | 4 |
| 1 | Matsuura | H-PLUS 300 | 40 | 15 Pallets | 19.68" x 22.04" x 19.68" | 4 |
| 1 | Matsuura | H-PLUS 300 | 40 | 15 Pallets | 19.68" x 22.04" x 19.68" | 4 |
| 1 | Matsuura | H-PLUS 630 | 50 | 6 Pallets | 36" x 41" x 34" | 4 |
| 3 | Matsuura | H-PLUS 630 | 50 | 48 Pallets | 36" x 41" x 34" | 4 |
| 1 | Niigata | HN63D | 50 | 6 Pallets | 39.37" x 33.46" x 29.52" | 4 |
| 1 | Niigata | HN63D | 50 | 2 Pallets | 39.37" x 33.46" x 29.52" | 4 |
| 1 | Haas | VF4 | 40 | NO | 50" x 20" x 25" | 3 |
| 1 | Haas | VF4 | 40 | NO | 50" x 20" x 25" | 3 |
| 1 | Haas | VF4 | 40 | NO | 50" x 20" x 25" | 4 |
| 1 | Haas | VF4 | 40 | NO | 50" x 20" x 25" | 4 |
| 1 | Haas | VF2 | 40 | NO | 30" x 16" x 20" | 3 |
| 1 | Haas | VF2 | 40 | NO | 30" x 16" x 20" | 3 |
| 1 | Haas | VF2 | 40 | NO | 30" x 16" x 20" | 3 |
| 1 | Haas | VF6 | 40 | NO | 64" x 32" x 30" | 3 |
| 1 | Haas | VF6 | 40 | NO | 64" x 32" x 30" | 3 |
| 1 | Haas | VF6 | 40 | NO | 64" x 32" x 30" | 3 |
| 1 | Haas | VF6 | 40 | NO | 64" x 32" x 30" | 4 |
| 1 | Haas | VF6 | 40 | NO | 64" x 32" x 30" | 4 |
| 1 | Haas | VF7 | 40 | NO | 84" x 32" x 30" | 4 |